Integrated Management System Policy
KGHM Metraco S.A. is a specialized trading and manufacturing company from the KGHM Polska Miedź S.A. Capital Group, which was established in 1991. The Company is the largest buyer of scrap copper in Poland and a major domestic supplier of salt intended for winter road maintenance. It is the owner of the most modern Sulphuric Acid Transshipment Terminal in Europe, which was commissioned in the Port of Szczecin and also it is the only company producing rhenium from own sources. The Company is the biggest manufacturer of crushed aggregates in Poland, supplying raw material i.a. for the purposes of strategic road investments in Poland. It is engaged in the management of products produced in the course of operation of mines and smelting plants, as well as in the recovery of copper.

The Company mission is timely, professional and efficient provision of industrial waste recycling services to our Clients.

High quality of the Company's products and services is achieved in an environment-friendly way.
Owing to the engagement of the Management Board and Personnel, we deliver to our Clients a significant added value and are distinguished by: innovation, support of product and technology development, mobility and professionalism.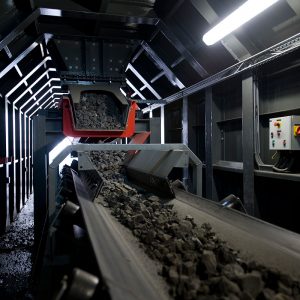 We pursue goals aimed at:
Broadening of trade area for goods and services.
Striving for optimizing the Company's operations.
Achievement of EBITDA on the level planned.
Implementation of technical and organizational progress.
Enhancement of knowledge and skills of the Company's Personnel through training system and professional improvement.
Improvement and development of the Integrated Quality, Environment and Work Safety Management System.
Provide financial resources which are necessary to achieve the goals established.
Manufacture safe and environmentally-friendly products in conditions which ensure the work safety.
Minimize adverse impact on the environment via controlling of environmental aspects.
Meet the legal requirements relating to our business.
We ensure all our Clients that the Management Board and Personnel of the Company understand, implement and apply this Policy. Each Employee is aware of full liability for the quality of work performed and for the natural environment. 
Achieving objectives and performing tasks under the Policy is guaranteed by continuously improved and efficient Integrated Management System applicable in the Company, according to the standards: PN-EN ISO 9001:2015 and PN-EN ISO 14001:2015.